The Motion Capturing Studio at the Cologne University of Applied Science is run and shared by the Computer Animation Group, the Computer Graphics Group and the Cologne Game Lab. The Motion Capturing Studio consists of  two systems, one with 24 infrared cameras and another one with 12 cameras. It is complemented with a pool of technical equipment (like Oculus Rift and HTC Vive) for virtual and augmented reality applications.
The cameras are mounted around a quadratic scene setup. Each of the camera is a high-resolution infrared camera (Optitrack S250e) with a frame rate of 250 FPS.
Our activities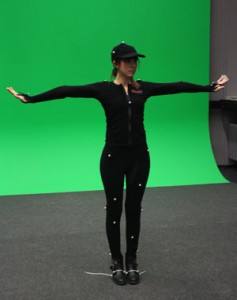 Motion Capturing is the process of recording the movement of objects or people. The practical use of a motion capture system spans for example entertainment, sports, medical, chemical and robotic applications. In filmmaking and video game development, it refers to recording actions of human actors, and using that information to animate digital character models in 2D or 3D computer animation.
Our interest lies in
the application of motion capturing for virtual and augmented reality scenarios in large physical spaces
the analysis and in the reuse of recorded movements for interactive applications, like e.g. virtual prototyping or previsualisation for movies.
If you have further questions about the motion capturing studio and our activities and projects, please contact Prof. Dr. Stefan Grünvogel.
Our database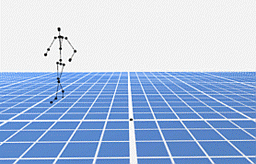 We provide access to our Motion Capturing Database, which contains around 250 recorded movements. These movements might be interesting for game developers, artists and researchers, who can download them in different formats. To quickly find a certain movement, it is possible to use various filter options and a quick preview of the movement.